Long-term care insurance (LTCI) is a financial resource for those who need ongoing care, either because they are unable to perform the activities of daily living (ADLs) or because of a cognitive impairment such as Alzheimer's disease. It is not the same as health insurance. Although anyone at any age can need long-term care, it is more prevalent as we age. Statistics indicate that a 65-year old has close to a 70 percent chance of needing some form of long-term care during their lives, with over 55 percent of LTCI claims relating to cognitive impairment. The average period for long-term care is approximately two and one-half years, although needs can be either temporary, such as in the case of rehabilitation, or significantly longer, such as with Alzheimer's or other chronic conditions. Although many picture a nursing home when they think of long-term care, the reality is that most care is provided in an individual's home by family members or in an assisted living community. As the need for care increases, it can take a significant toll on these informal caregivers.
Having the financial ability to supplement or replace informal care can improve the quality of life for all involved. For those who have significant financial assets that can be allocated to care, LTCI is not financially necessary, although it may be emotionally desirable. The purchase of LTCI is more compelling for those that have some resources, but either not enough to meet the full potential need or a desire to preserve some of their assets for other goals.
The cost of long-term care can be significant, as illustrated by Exhibit A. The median cost for a semi-private room in a Massachusetts nursing home is $144,175 per year, which is well above the national median of $89,297 per year, according to the Genworth 2018 Cost of Care Survey. The same survey indicated that the median cost in Massachusetts for a home health aide working hourly per week is $62,005 per year, which is also higher than the national median of $50,336 per year. These potential costs should be balanced against the likelihood that care will be needed and the cost of LTCI.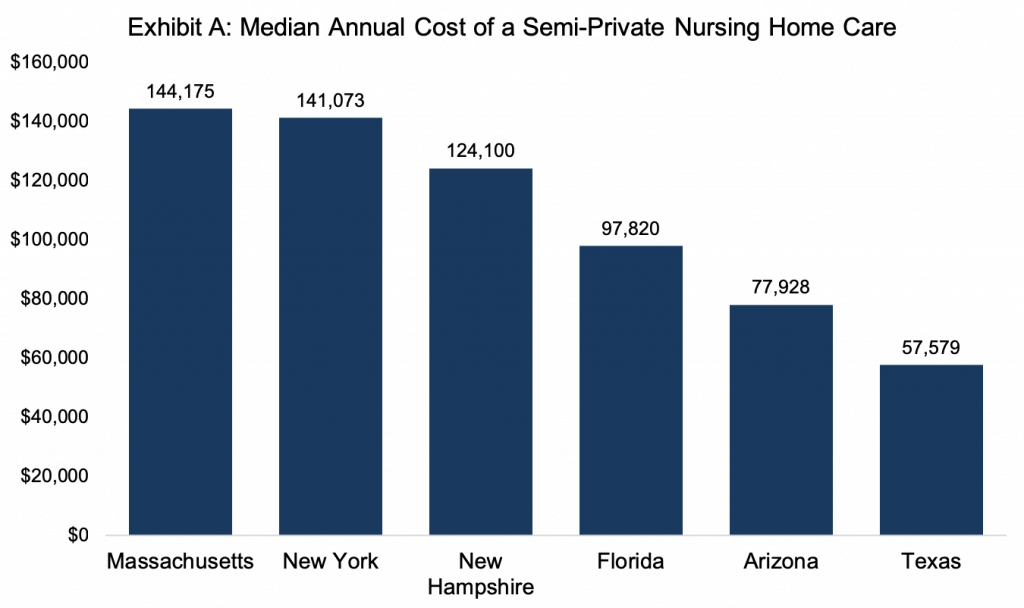 How is LTCI different than Medicare?
Medicare does not generally pay for long-term care. Following a 3-day hospitalization, Medicare may pay for up to 100 days of necessary skilled-nursing care, but will require the individual show appropriate improvements along the way to pay for the care. Alternatively, Medicaid may pay for long-term care, but it is needs based with strict financial tests, which means it is generally not a viable option for most of our clients.
Those with financial resources can either plan to self-insure future care costs, using their assets to pay the costs if and when the need arises, or use an insurance policy to help provide for all or part of a potential cost. Even if you choose to purchase LTCI, it is not necessary to purchase enough insurance to cover the full potential costs – combining LTCI with self-insurance is often the best option and helps to control the LTCI premium.
The older a person is when applying for coverage, the higher the premiums. In the past, most policies were purchased by individuals in their late 60s or early 70s. Today, as people better understand the potential benefits of LTCI and the premium structure, this age has decreased to their late 50s, with many purchasing policies in their 40s. Although individuals between the ages of 18 and 84 may be able to purchase LTCI, once health issues begin to present themselves it can be difficult or impossible to obtain coverage. Increasingly, employers are offering group LTCI plans, with a simplified underwriting process that can make it easier for some individuals to obtain coverage
What factors should I consider when purchasing LTCI?
Once the decision to explore purchasing LTCI is made, there are number of key considerations.
Company: Policies should be purchased from only highly rated, reputable companies that have a significant presence in the LTCI market. Company ratings can be obtained from third-party rating agencies such as A.M. Best, Moody's, or Standard and Poor's. Although current financial strength does not guarantee that the company will be able to pay claims years from now when it is time for you to collect, it is a good starting point. In addition, you should seriously consider using an insurance agent who specializes in LTCI.
Type of care: Most new policies allow care to be given in either a home setting, including assisted living,or in a nursing home. Some older policies only provide for care in nursing homes. It is important to make sure that your policy covers the types of care that you view as most desirable. Who is allowed to provide the care is also important to consider. Some policies only provide benefits when care is provided by a licensed professional or through an agency, while others are more flexible in allowing family members to receive remuneration for the care they provide. Many policies will also pay for community-based services such as adult day care centers or for geriatric care managers. The key here is to make sure you understand your policy's fine print.
Triggering benefits: Generally, an individual will become eligible to receive benefits under an LTCI policy when they have either a severe cognitive impairment or are unable to perform at least two of the six ADLs.ADLs include: bathing, continence, dressing, eating, toileting, and transferring (in or out of a bed or chair).Note that this list does not include things such as cooking or cleaning. Policies generally have an elimination period, often 90 days, which is the period of time that a person must be receiving care before the policy begins to pay. It is important to review how a policy calculates the elimination period to understand under what circumstances you become eligible to receive benefits.
Premiums: Probably the biggest deterrent to purchasing LTCI is the cost. Not surprisingly, the younger and healthier a person is when purchasing LTCI the lower the premium. Consumers can elect different premium payment options, such as paying quarterly or annually for life, or paying only until age 65. Your preferred premium payment option should be selected based on your current and projected cash flow. With this, consideration should be given to the fact that companies have the ability, but only with state approval,to increase premiums for classes of policy holders who are still paying premiums. Most policies provide a premium discount for spouses if they purchase LTCI together, and waive future premiums while in claim status.
Inflation: The younger you are when you purchase coverage, the more important it is that you purchase an inflation rider that annually increases your coverage amount by some factor. Common choices are five percent, three percent, CPI adjusted, or no adjustment. Often, the cost of long-term care rises faster than the general inflation rate. Although worth it in the long-run, the trade-off here is that an inflation rider adds significantly to the premium.
Benefit Pool: Only purchase the coverage you need. When choosing a benefit amount, remember that it is perfectly reasonable to self-insure some portion of the potential costs and use LTCI to supplement your other resources. You should also consider where you are likely to require long-term care – is it where you live now or would you likely relocate to another state? Make sure you research care costs in the state where you anticipate you will be receiving the care. In addition, consider how long you wish your benefit to be available. Options often include a 3, 5, or 7-year benefit period, with very few companies still offering unlimited benefit periods. Some policies state the potential benefit as an overall dollar amount that is available. Riders are often available that allow spouses to pool their benefits, utilizing the combined benefit amount for either spouse until fully exhausted between the two, thereby decreasing the total amount of coverage that it may be necessary to purchase.
Benefit Payments: Once the elimination period is satisfied, policies can pay benefits as either indemnity payments or expense reimbursements, with benefits paid on the basis of a daily or monthly benefit. With indemnity payments, the insured receives a cash amount based on the stated policy benefit, which can then be utilized to provide for their needs. This differs from an expense reimbursement method where benefits are paid to reimburse for amounts paid for qualifying care. Another notable difference is between daily and monthly benefit calculations, which is most important when the costs of care are not incurred equally each day. While monthly benefits are simply a multiple of the daily benefit, the amount available for any given day is the full monthly benefit that has not already been utilized during the month. Alternatively, with a daily benefit the stated daily limit applies to each day, even if you did not utilize the full daily benefit from the day before. Regardless of the type of benefit payment, timelines outlined in the policy for company claim notification and requests for payments should be adhered to.
LTCI combined with Life Insurance or an Annuity: These combined policies are increasingly popular. The idea of having at least some future benefit for premiums paid even if they do not ever need LTC makes the combined policies attractive. Others prefer to keep the types of insurance separate. With combined policies, some stated benefit amount that was not required to be paid out for care would be paid in the form of a life insurance annuity benefit and named beneficiaries at the death of the insured. Clearly, these types of policies should be explored for those having multiple insurance needs.
Depending on your financial circumstances and family history, it may be advisable to explore LTCI. Whether you choose to purchase LTCI or not, it is advisable to have conversations now with family members to make sure they understand your wishes around care and how it would be paid for in the event you ever need it. Conversations today can help ensure that you receive the type and quality of care that you would prefer in the future.
Please contact your Fiduciary Trust Investment Officer if you would like to discuss this or other planning topics.
1 Genworth 2016 Cost of Care Survey, conducted by CareScout®, April 2016.
Click here to view the pdf version of this article.